I'm quite pretty~~ keke my hair has grown long right? huhut ~
[INFO] Hari ini Nicole ganti dp Twitter. Terus dia pake foto yang di atas dari foto yang ini. Setuju ngga sih? 2-2nya fotonya bagus! Tapi bagusan foto yang bawah kan? Nicole senyumnya ngga nahan banget di foto bawah…. Kalo mata kalian 'peka' di foto bawah keliatan jelas kalung KEY yang Nicole pake. Di foto atas….. Kontrasnya banget banget. Ngga keliatan. Keliatan kalo matanya pada tahan sama kontrasnya, dikit, tapi keliatan, SEDIKIT. Oiya, pas promo BBHD di Jepang kemaren, Nicole masih pake kalung KEY di acara, tapi dia masukin ke baju. Jadi yang keliatan talinya aja. Ini GIF nya….
Lalu…… Interview SHINee in Entertainment Taiwan Show 'I Love JK'. SHINee gambar 'Dream Girl' ala mereka. Nah, gambarnya Key itu yang ini….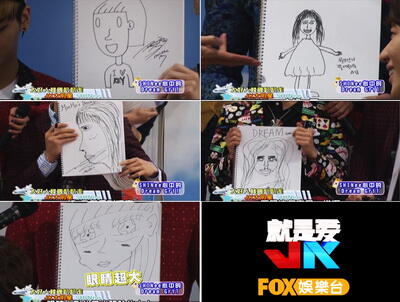 Gambar Key yang cewek rambut pendek paling pojok kiri atas. Nah, banyak banget trans yang beredar. Saya kasih 2 versi aja ya…
1. @crazyhjhm: Omg!!!! Key's ideal girl…. Can we all assume he is describing Nicole? XD short hair and petite girl…
2. "Actually, it doesn't matter if she has long or short hair. What's important is that she has be friendly, obedient, and loves me a lot."-Key (ini dari trans news)
Kalian terka sendiri deh. Hihi abis itu beredar news juga masih saat KARA promo BBHD, tipe ideal KARA. Nih, kesukaannya Nicole begini nih;
Nicole chose, " I like men who pay attention to detail and can remember what I say".….
Oke. Di tengah berita yang beredar Nicole di sebut-sebut di episode WGM Jinwoon kemarin sama Mama dan Neneknya Jinwoon…..
But! They are just close friends! Nicole SeoHyun Key and JinWoon though JinWoon always says that He likes SeoHyun :))-@ilikeUbestJJ

Translation twitter update: yooniqda_